Make it live again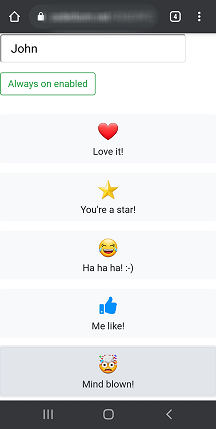 "Feedback-o-matic enables your zoom/online show spectators to use their phones as keypads to give virtual applause, laughter and gasps. It's visual, inclusive and builds atmosphere!"
See how it works! Big thanks to Rune Carlsen for sharing.

Background
After many discussions with performers moving in to online shows one obvious drawback always came up: lack of audience feedback. The performer is standing alone in one room, and the audience is sitting alone in theirs.
Problems with interaction
During my many presentations and meetings online one thing is obvious: it is tricky to manage interaction. If all leave their mics on you will be getting barking dogs, kids running around, people expressing "wow", laughing, etc. All fun and good in a sense, but it doesn't really add value to the online show due to how software like Zoom or Teams normally handles these bursts of input: words will drop out, focus may change and the audience experience is dulled. Leaving mics off is generally a good advice, but then you are completely on your own. And your audience will not experience that crowd-feeling of enjoying something amazing together as a group.
How to do feedback without interrupting?
I wanted to create something that ticked my boxes:
Live interaction - no more delays like with online streaming (e.g. FB or Youtube)
Instant visual feedback - shared among all participants, both performer and audience
Platform independent - most shows I've seen for the everyday online performer use e.g. Zoom or Teams, and I'd like this to work just as well on both.
Feedback-o-matic is here!
Feedback-o-matic is a simple to use service to allow the audience to send hearts, laughs, likes or surprise type of feedback straight into the performers camera. The feedback is visual and shared within the show!